Metallic Manicures Ideas For Your Wedding Day
Where the perfect metallic manicure is concerned, no wedding day look would be complete without it! It's the kind of beauty look that says you've gone to extra effort and are ready for a show-stopping entrance. A few golden or silver accents can take a simple nail art design up several notches on the wow factor scale, making your hands look stunningly glamorous. Of course, there are plenty of creative ways to incorporate metallics into contemporary designs – so read on for ideas for your own metallic manicure on your big day!
How to get the perfect metallic manicure for your wedding day
If you're looking to add a bit of sparkle and glamour to your wedding day, look no further than the metallic manicure. This chic style is perfect for making a statement on your special day. The best part is it's easy to achieve at home with just a few supplies! Here are our top tips for creating the perfect metallic manicure:
Start by prepping your nails properly – ensure they are clean and filed so that the polish will adhere evenly.
Apply an even base coat of regular nail polish in a neutral shade such as nude or white. This will give you a good foundation for the metallic layer.
Select your chosen shade of metallic polish. Depending on what type of look you are going for, silver and gold work well with most wedding attire, but there are also a variety of other shades, such as bronze, copper, and rose gold, that can create an even more eye-catching effect.
After selecting your color, apply two coats of metallic polish. Make sure each coat is completely dry before applying the next one.
Once all the layers are dry, use a topcoat to give the manicure a glossy finish and help it last longer.
To complete the look, add some embellishments or decorations, such as crystals or pearls, to make your manicure stand out!
And there you have it – the perfect metallic manicure for your special day! With these tips, you'll be sure to have show-stopping nails. So enjoy your big day, and don't forget to take lots of pictures with your beautiful new manicure!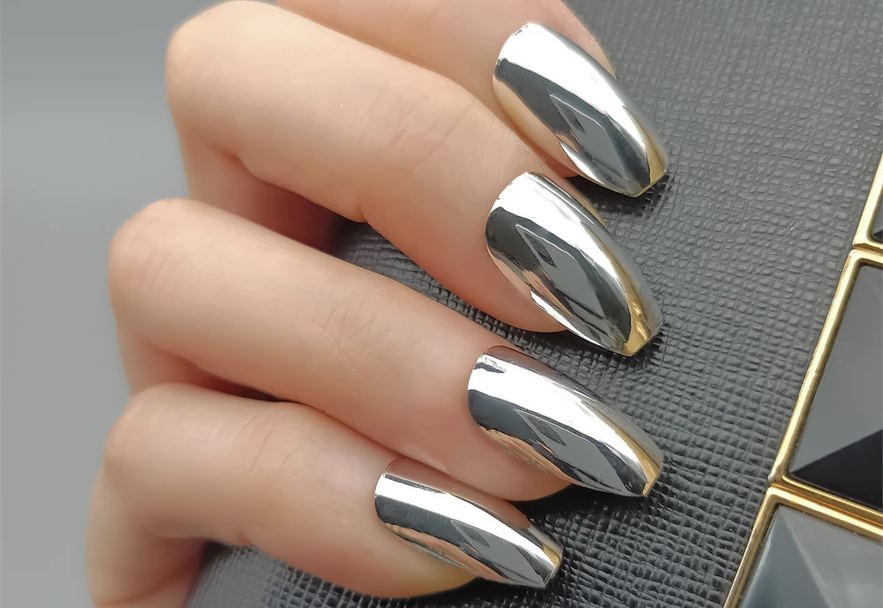 Ways to make your metallic manicure last longer
Start with a clean base: Make sure your nails are free of oils and dirt before applying any polish or top coat. Use an alcohol-based wipe to remove any residue from your nail beds and any remaining polish from previous manicures. This will help the new metallic polish adhere better and last longer.
Use a ridge-filling basecoat: A ridge-filling base coat can help create an even surface for the metallic manicure, making it look more polished and last longer. Allow it to dry completely before adding the metal color of your choice.
Apply thin layers of metal polish: Avoid thick layers when applying metallic polish, as this can lead to chipping and peeling. Instead, apply thin layers with a light touch, allowing each coat to dry completely before adding the next one.
Use a topcoat: Always finish your metallic manicure with a clear topcoat. This will help hold the metal color in place and protect against scratches and chips.
Moisturize your nails: Keep your nails hydrated by using cuticle oil regularly and using hand cream after every hand washing; this will also help keep your manicure looking fresh for longer.
Avoid contact with water or other liquids: Water can cause polish to chip or fade quickly, so try to limit contact with water as much as possible when wearing a metallic manicure. Also, avoid activities that require your hands to be submerged in water, like washing dishes or cleaning the bathroom.
Reapply the topcoat: As your mani begins to fade and wear off, add a fresh layer of topcoat to help it last a bit longer. If you're not willing to go for a full manicure, touch up areas showing signs of wear with a small brush and fresh polish until you can get back into the salon.