Why The Industrial Wedding Theme Is So Popular
The industrial theme is your ideal choice if you're looking for a truly unique and exciting wedding theme. In recent years, this type of wedding has risen in popularity due to its modern take on weddings and fresh approach to decorating. From captivating venues with exposed brick walls to meticulously chosen furniture and decorations that showcase minimalist touches, the industrial feel provides a beautiful backdrop as couples begin their journey into married life together. An industrial-style wedding will amaze your guests by its charm and can easily be customized to fit any couple's aesthetic taste. In today's blog post, we'll discuss why more people are opting for an industrial-themed wedding day and how you can bring it all together without breaking the bank!
Why is the industrial wedding theme so popular?
The industrial wedding theme is becoming increasingly popular due to its sleek and modern look. This decor style often uses vintage, weathered elements such as exposed brick and pipes, rustic wood accents, Edison bulbs, and greenery to create a truly unique atmosphere that couples love. Industrial weddings are also known for breaking away from traditional ideas while creating an intimate space that reflects the couple's style. Plus, since many industrial venues already have unique features built in, it cuts down on additional decorations needed to create the look. Whether you're looking for a nontraditional evening filled with charm or something more minimalist and elegant, the industrial wedding theme has something for everyone. Additionally, this type of industrial setting can provide an environment with a range of photo ops that can make for one-of-a-kind wedding photos. Industrial-style weddings allow you to express your creativity while still having all the amenities couples look for on their big day. An industrial-style wedding theme may be the perfect fit for a couple looking for something unique and memorable. With its versatile aesthetic and affordable budgeting options, it's no wonder why this popular trend is quickly becoming the go-to choice for modern couples! On top of it all, many industrial venues offer packages that help couples create their dream wedding without breaking the bank. That's why an industrial wedding theme is attractive to so many people!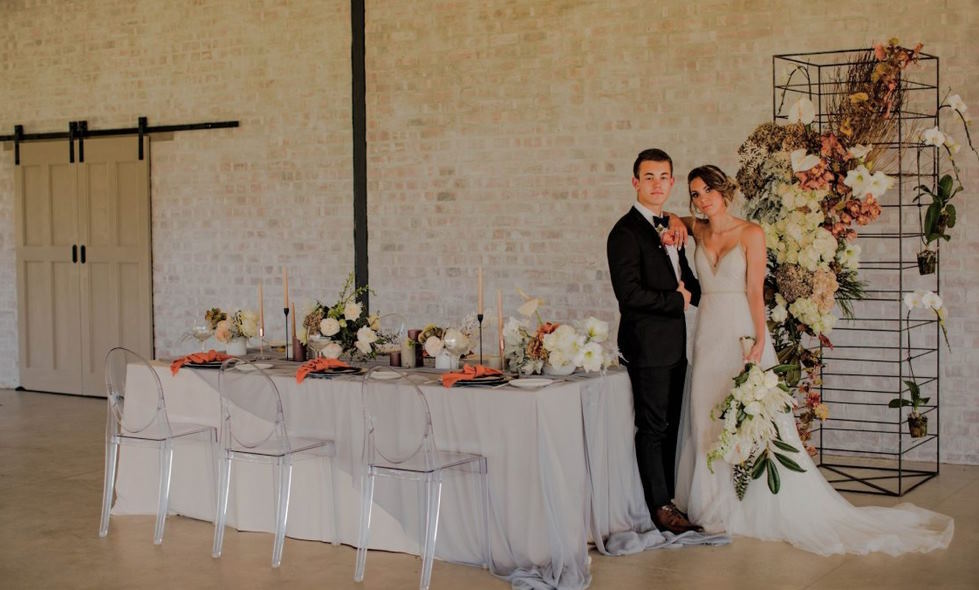 Ways to incorporate an industrial theme into your wedding décor
Use a venue with an industrial flair. Look for venues with exposed brick walls, high ceilings, and metal accents to set the tone for your wedding day.
Incorporate metallic elements into your décor. Choose gold or silver chargers, vases, chairs, and other decorations to give your event an industrial vibe.
Create a statement piece with Edison bulbs. For example, hang Edison bulbs from the ceiling or incorporate them into paper lanterns to light up the room in style.
Add touches of copper or brass throughout the space. Use copper flatware, brass table numbers, and centerpieces made of copper piping to add some industrial flair to your décor.
Choose an industrial-inspired cake. Have your baker adorn the cake with copper accents, or create a unique design using metal piping.
Incorporate industrial-style accessories into your wedding attire. Opt for a steel cufflink or earrings to complete your look and add a subtle touch of industrial style to your special day.
Use vintage furniture pieces to add personality to the room. Look for old-school desks, chairs, and trunks to give your venue that rustic, industrial feel.
Hang fun signs throughout the space in keeping with the theme. DIY some framed chalkboard signs or print custom wooden signs with quotes from your and your partner's favorite industrial-inspired bands.
Choose unique lighting options, such as vintage lanterns or Edison bulb strands, to brighten up the space in an edgy way.
Use Mason jars as centerpieces, vases, and drinking glasses for an effortlessly chic look. Fill them with flowers or candles to create an inviting ambiance or offer signature cocktails for guests to enjoy throughout the evening.

Top most popular industrial wedding venues
The Factory at Franklin – This industrial wedding venue in Franklin, Tennessee, is the perfect choice for a modern wedding. With exposed brick walls and large windows, The Factory provides a unique backdrop to your special day. From the rustic charm of their 8,000-square-foot event space to the outdoor patio overlooking a lush garden courtyard, there's something for everyone! Plus, they offer an on-site wedding coordinator, so you don't have to worry about planning everything from scratch.
The Grand Hall at Power & Light – This stunning Kansas City venue offers a mix of old-world elegance with modern amenities—perfect for an industrial wedding. With its soaring ceilings and sleek design, this venue exudes sophistication and style. Their on-site event planner is there to help ensure your wedding day runs smoothly.
The Conservatory at Waterstone – Located in Cincinnati, Ohio, this industrial venue offers a beautiful botanical atmosphere with plenty of space for your guests. The Conservatory provides an elegant setting for your special day with its floor-to-ceiling windows and modern architecture. Plus, they provide in-house catering, so you don't have to worry about finding a caterer or dealing with any last-minute issues.
The Foundry at Puritan Mill – This historic Atlanta venue has been transformed into a chic event space perfect for an industrial wedding celebration. With its exposed ceilings, rustic accents, and modern amenities, The Foundry provides a beautiful atmosphere for your guests. Plus, their on-site event coordinator helps ensure everything goes as planned.
The Loft at 600 F – This Washington D.C. venue is ideal for couples looking to add a touch of industrial chic to their wedding day. With its open floor plan and lofted design, the Loft provides an airy atmosphere perfect for any occasion. Plus, they offer full-service catering to ensure all your needs are taken care of in style!
No matter which one you choose, these popular industrial wedding venues will ensure that your special day is unforgettable! So take the time to find out more about each of these venues and determine which one is the best fit for you. With its stunning atmosphere and modern amenities, each venue has something special to offer. Likewise, your guests will surely have a great time celebrating with you at any of these amazing industrial wedding venues!