Tips For Choosing The Perfect Winter Wedding Hairstyle
Finding the perfect winter wedding hairstyle can be a daunting task. With all of the options out there for stunningly unique dos, it's easy to get overwhelmed. But fear not! If you're looking for an amazing winter wedding hairstyle that will keep you warm, provide plenty of styles, and still be as unique as your special day deserves, don't worry – we have some tips on choosing the perfect 'do for your big day! From classic up-dos with a festive flair to cozy boho styles that are perfect for brides who love relaxed looks, we've gathered some must-have ideas on how you can achieve any look while staying stylish and comfortable this wintry season. So read on to learn more about creating your magnificent winter wedding hairstyle!
Gorgeous winter wedding hairstyles
A popular choice is to create an old Hollywood-inspired vintage look with soft curls and a beautiful accessory such as a rhinestone headband or barrette. For brides who prefer something more modern, try a messy bun with sparkly pins for extra glamour. Whichever style you choose, make sure it suits your personal taste and the type of wedding you're having—the right hairstyle will help make your day truly special.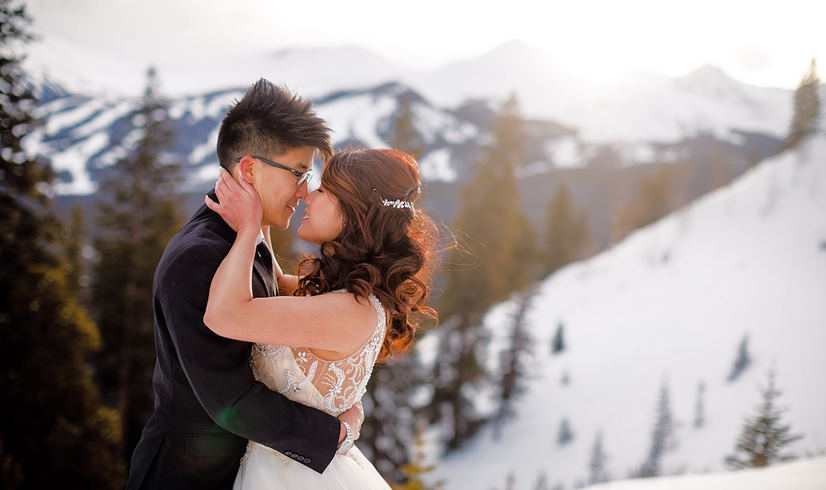 If you're still undecided on what hair look to go with, consider consulting a stylist who is experienced in creating wedding looks. They can help you find the perfect hairstyle that complements your dress and brings out your beauty on your special day.
No matter what you decide, the most important thing is that you feel comfortable and confident in your chosen look. Then, with a little bit of planning and creativity, you can create a stunning winter wedding hairstyle that will make everyone swoon.
Ways to style your hair for a winter wedding
Curls: Whether you want tight curls or loose waves, curling your hair is a great way to style it for a winter wedding. Use hot rollers, curling irons, or even your fingers to create the perfect look. Make sure to use some hairspray and/or setting spray to help keep your curls in place all night!
Braids: Adding a braid or two can take any hairstyle up a notch for a winter wedding. You can go with something simple like one French braid down the back of your head or two braided pigtails on either side of your head if you want something more whimsical. Or try adding multiple small braids around the circumference of your head for a romantic and unique look.
Voluminous Updos: An updo can be the perfect winter hairstyle for a wedding. If you want to keep your look classic, try creating an elegant bun or chignon at the nape of your neck. For something more modern, use lots of volume and texture when styling your hair into an updo. Teasing sections of your hair before pinning them up will help create a fuller look that will last all night long.
Accessorize: Adding some decorative accessories to your hairstyle is always a great way to take it from plain to extraordinary! You can add clips, pins, headbands or flowers to dress up any style. Try to pick accessories that complement the colors of your outfit, and you'll be sure to have a stunning hairstyle for your winter wedding.
Have Fun: No matter what style you choose for your winter wedding hairstyle, make sure to have fun with it! Not only should you enjoy the process of styling it, but feel free to experiment with different ideas until you find something you love. Your hair is an extension of who you are and should reflect that on your special day. With these tips in mind, you will be ready to rock any winter wedding hairstyle.