Your Ultimate Guide To Mother Of The Bride Makeup
The mother of the bride has one of the most important roles in any wedding – aside from the happy couple, that is! Not only do they have to be supportive, loving, and fun on the big day itself, but typically, mums are involved in all other aspects too, including picking out their dress and deciding what makeup look to go with. With so much importance put on this special occasion both emotionally and aesthetically, it's no surprise that ladies want to feel their best and look their absolute best for those magical memories captured through photography. In this blog post, we will walk you through some top tips for making your mother of the bride makeup look truly memorable – from knowing where to start when it comes to base makeup products an color palette choices right down to helpful advice about considering things like timing throughout the day – read on for everything you need!
How to pick the perfect makeup look for your mother of the bride?
When it comes to helping your mom look her best for the big day, the key is choosing a makeup look that complements her unique style and personality. Here are some tips to ensure she looks beautiful on the special occasion: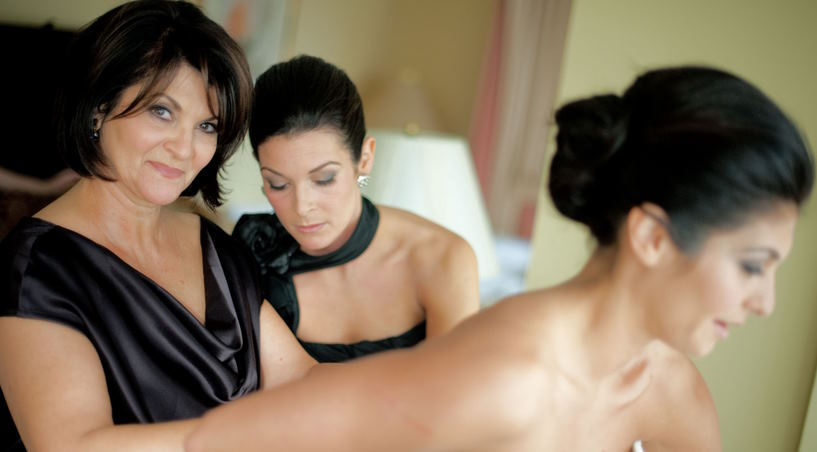 Start with a conversation – Ask your mother about her makeup preferences and ensure you understand what she does and doesn't like. This will help when selecting colors, textures, and products that suit her best.
Choose an appropriate color palette – Soft pinks, beiges, peaches, and browns are all great choices for a classic mother-of-the-bride look. You can also opt for more vibrant hues if they compliment your mother's complexion.
Keep it natural – A natural makeup look will help to bring out her best features without overwhelming her face or taking away from the event's other elements. Think subtle and elegant, and keep any dramatic effects to a minimum.
Pay attention to detail – From foundation to mascara, every look element is important and should be carefully selected to create a cohesive finished product. Consider your mom's skin type, eye shape, lip color, etc., when selecting products for each area of her face.
By following these tips, you can help ensure that your mother looks beautiful and timeless on the most special day of your life!
How to create a beautiful makeup look for the mother of the bride
A beautiful makeup look for the bride's mother should be timeless, classic, and elegant. Start by prepping your skin with a light moisturizer and applying a primer to ensure the makeup lasts all day. For foundation, choose an oil-free option with medium coverage to create a flawless canvas and blend it with a damp makeup sponge. To add definition to the face, use a soft brown eyeshadow on the crease of the eye and apply blush in warm tones along the cheekbones. Next, define your brows by filling them in with a powder or pencil close to your natural hair color. Finish off with waterproof mascara and long-lasting lipstick or lip gloss in neutral shades. Finally, set your look with a setting spray or powder to ensure it lasts all day. With these tips, you can create the perfect makeup look for the mother of the bride!
To complete this look, accessorize with simple jewelry such as a statement necklace or earrings and light makeup such as eyeshadow and lip gloss. Next, dress up in an elegant outfit that complements your makeup look, like a classic dress suit or dressy separates. Finally, finish off with a pair of heels, and you'll be ready to walk down the aisle in style!
The mother of the bride is usually one of the most important people on the big day, so making sure she looks her best is essential. By following these simple steps, you can create a beautiful, timeless makeup look that will make her feel confident on the big day.
With these tips, you can create a beautiful makeup look for the bride's mother that will make her feel special on your special day!